Skills Clinic
(updated 03/01/2015 at 01:31 PM)
ATTENTION ALL
skills clinic for all U8 players
registered for our Spring 2015 season!
If you have a U8 player that is currently registered for our Spring 2015 season, TVSA is offering a FREE skills clinic to set your player up for a great season!! This is a fantastic opportunity for your player to learn proper ball handling and technical skills from experienced and licensed coaches.
If you are interested, YOU MUST RSVP to our Director of Coaches, Dan Settle at

dkamsettle@verizon.net



Skills Clinic Details:
Players must wear shin guards and cleats, bring a soccer ball and have water.
*** RSVP TODAY for your player to learn THE LOVE OF THE GAME! ***
Spring Updates
(updated 03/01/2015 at 01:30 PM)
Things to know for the upcoming Spring Season:
Parents and Players:
TVSA is in the process of assigning coaches and building teams. Coaches will be contacting you between 3/15 and 3/25. Practice times and locations are scheduled by the coach and will begin shorty after you are contacted.
**IF YOU ARE INTERESTED IN COACHING, PLEASE CONTACT OUR REGISTRAR DIRECTLY: tvsareg@hotmail.com**
Parent Concussion Information sheet Concussions can occur in any sport or recreation activity. So, all coaches, parents, and athletes need to learn concussion signs and symptoms and what to do if a concussion occurs.
TOPS Registration: Players are welcome to register online OR download the registration form and bring it to the first practice Friday March 27th, 5:00 pm at Pala Park.
Coaches:
Coaching Education:
Concussions can occur in any sport or recreation activity. So, all coaches, parents, and athletes need to learn concussion signs and symptoms and what to do if a concussion occurs.
If you think your athlete has sustained a concussion…
don't assess it yourself.
Take him/her out of play,
and seek the advice of a health care professional.
Concussion signs and symptoms fact sheet
Referees:
Are you interested in becoming a referee? Register here
Do you need to be recertified? Click Here
Spring Registration
(updated 02/01/2015 at 08:41 PM)
Spring 2015 Online Registration
Wait list is still OPEN!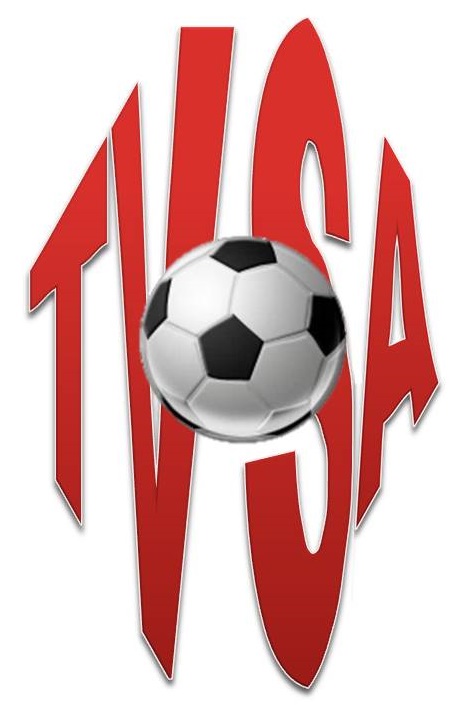 (Click the TVSA image to take you to our online registration TODAY!)
Deadline to register was January 31st!
Players registered starting 2/1/15 will be wait listed and a $20 late fee will be added
NOTE: TVSA is wait listing all players wishing to sign up at this time while we work to round up enough volunteer coaches. To be added to the wait list you should register online. You will not be charged until/unless we can offer your child a spot. If you have more than one child, they will not necessarily all be offered spots or offered spots at the same time. There is no guarantee you will get in although we try very hard to place as many children as possible.
***Anyone volunteering to be a head coach will get priority in being placed. Questions can be addressed at tvsareg@hotmail.com

SEASON DETAILS:
2015 Spring Season is scheduled to play March 28th - May 16th.
(Note: Coaches will be calling about two weeks prior to the start of the season to begin practices)

Recreational
$70 for each player
$80 each non-resident player

TOPSoccer
TOPSoccer is designed for our young athletes with disabilities
$25.00 each player
First time players to TVSA must provide proof of age at time of registration in the form of a government issued birth certificate or passport. You may securely upload it during the online registration process. The document will be permanently deleted once it has been verified. Returning players do not require proof of age. Minimum age is 4 years old by 12/31/2014. The maximum age is 17 as of the same date. Sibling discounts do not apply in Spring.




Want to Coach?? Anyone who is interested in coaching in the Spring may also register online. Be sure to select both the "Player" and "Coach/Admin" boxes on the next screen. We always need coaches so please consider helping us out this Spring. If you are not sure, go ahead and still select the Coach box and we will be sure to contact you later on in case you change your mind. Email our registrar to volunteer: tvsareg@hotmail.com

Bylaws and Board of Directors
You can find all the information you want about the inner workings of TVSA. Click here to find out who is on the board and you can also find the bylaws that govern this league.
Used Equipment
Do you have some used soccer equipment and don't know with it? Let TVSA take care of it for you. We accepting used shin guards, balls, and shoes. This equipment will be donated to Assistance League where it will be reconditioned and made available for purchase. The proceeds go to the Assistance League which in turn uses the funds to help those less fortunate in our wonderful valley.
Donations will be accepted at the field tent at Harveston Park on Saturdays or at the TVSA office [map].
TVSA Needs Volunteers
TVSA is always looking for new volunteers. The TVSA recreational and TOPS divisions are run solely by volunteers. We are dedicated to creating a fun, safe and educational experience for all of the young children that participate in our organization. Making this happen requires a special team of people. Are you ready to be part of our team? We are currently in need of volunteers in the following areas:
If you would like more detailed information on volunteering, please use the Contact Us page and drop us a note. We will get back to you as soon as possible.
Trash
Just a gentle reminder to please be considerate of your surroundings and to others on game day and pickup your area after each game. If you see a team leaving their side of the field without picking up their trash, please notify a league official at the field or contact us via the website.